As part of efforts to boost connectivity in major transport hubs nationwide, PLDT and Smart Communications recently installed carrier-grade Wifi in Puerto Princesa International Airport in Palawan.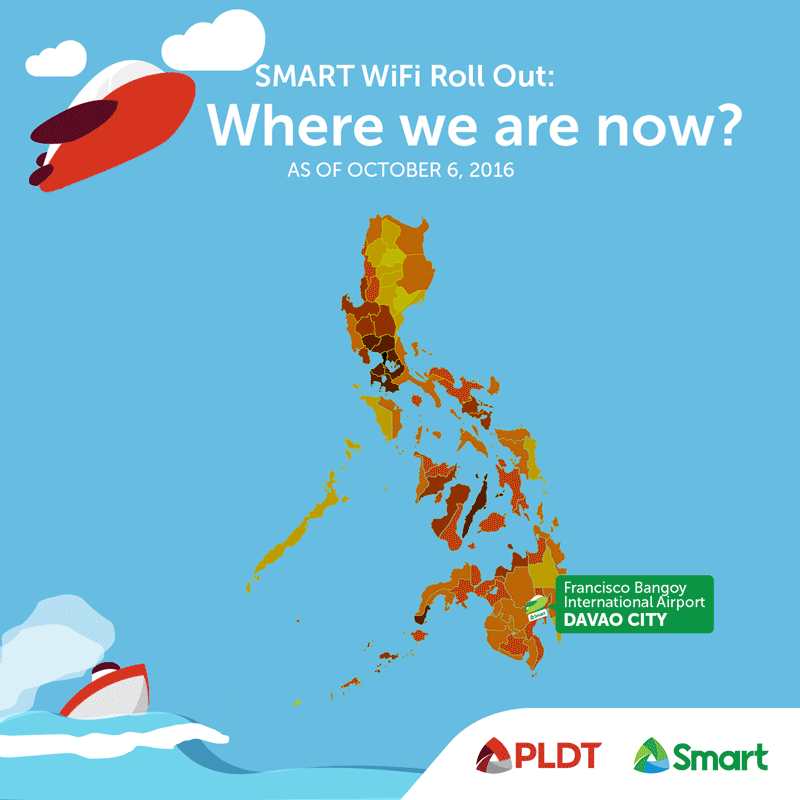 The main gateway to the country's last frontier and to the Puerto Princesa Underground River, a UNESCO World Heritage Site and one of the New 7 Wonders of Nature, Puerto Princesa Airport serves over a million passengers annually, making it one of the biggest regional airports in the country.
The deployment of Smart Wifi, which has a backhaul capacity of up to one gigabit per second, will allow up to 3,000 concurrent users a seamless digital experience in checking their social media accounts, email, or keeping connected to home and office while traveling.
With travelers' increasing reliance on online services and mobile apps for information, the super-charged connectivity will make their trips more enjoyable and productive.
"With this latest installation, we are on track to meeting our commitment to government to make available carrier-grade Wifi services in major transport hubs all over the country, which will be a boon to domestic and international tourism," said Eric R. Alberto, EVP for PLDT/Smart, and president and CEO, ePLDT.
Smart is spending close to P1 billion for the first phase of the deployment of carrier-grade Smart Wifi. This forms part of the PLDT Group's P48-billion capital expenditure program for 2016, which is focused on improving data connectivity throughout the country using both fixed and wireless services.
"Smart Wifi complements our mobile Internet service that we are also boosting through the deployment of enhanced LTE and 3G coverage all over the country. This is part of Smart's three-year network improvement program, which has already integrated the use of additional radio frequency spectrum such as the 700 MHz band that we have gained access to as a result of the acquisition of the telecom business of San Miguel Corporation," said Kat Luna-Abelarde, FVP and Wireless Consumer Operations Head at Smart.
PLDT and Smart have deployed carrier-grade Wifi service to the Ninoy Aquino International Airport (NAIA) and 12 regional airports, which served about 51.5 million passengers in 2015. This was done under a Memorandum of Agreement with Department of Transportation that provides for the installation of high-speed Wifi service in key transport hubs all over the country within the first 100 days of the Duterte Administration.
Apart from the four passenger terminals of NAIA, super-speed Wifi services are already available in Davao City's Francisco Bangoy International Airport, Laguindingan Airport in Misamis Oriental, Bacolod-Silay International Airport, Iloilo International Airport, Roxas Airport, Zamboanga Airport, Clark International Airport, Dumaguete-Sibulan Airport, Laoag International Airport, General Santos International Airport, Kalibo International Airport, and Boracay Airport in Caticlan.
Smart Wifi has been installed in the Batangas International Port in Batangas City, and Calapan City Port in Mindoro. In the pipeline are deployments in Dipolog Airport, Tagbilaran Airport in Bohol, and Mactan-Cebu International Airport. High-speed internet will also be installed in the terminals of MRT and LRT in Metro Manila.
"More high traffic areas such as city halls, schools, hospitals, and malls, among others, will be covered by the service over time," Smart statement said.
(Puerto Princesa Airport photo by wikipedia.org user Kevin J. Baldio)